Step By Step
STEP 1 | Email sent from the Internet. Network detects the availability of server.
STEP 2 | If the primary server is available, email will be delivered as normal.
STEP 3 | In the event that the primary server is unavailable, email will not bounce but instead be sent and kept at the Backup Email Server. Spam Filtering and Virus Scanning will also take place here.
STEP 4 | If virus or Spam is detected, email will automatically drop into trash can.
STEP 5 | Clean emails will be kept in the Backup Email Server for 7 days before being deleted.
STEP 6 | Queue emails are delivered when primary server is available.

FLEXIHOSTING'S ENTERPRISE MX (EMAIL) BACKUP SERVICE

When your mail server (could be your own MS Exchange, Lotus mail server or your local hosting provider email server) goes offline due to unforeseen circumstances, such as network failure, network degradation, server crashed or even a schedule maintenance and someone tries to send you an email, the message will not be delivered to you successfully and may just disappear in cyberspace or bounce back to the sender.

The most apparent example will be the recent natural disaster, earthquake, that attacked Taiwan in December 2006, which has caused major communication breakdown in South East Asia and caused so much problems to organization that rely on their email for daily communications and sale.

In today's business world, losing an email is not acceptable and can translate into lost revenue. The same goes to unreliable emails that will even cause businesses to lose productivity and embarrassing moments.

Flexihosting's Enterprise MX (email) Backup Service provides an email store and forward mechanism by utilizing our two-tiered backup email servers in two different secure data centers in USA and Singapore.

How It Works?

If the primary mail server is unavailable, the backup email server will accept email for the primary server. While accepting email for the primary server, the backup email server periodically checks to see if the primary server is back online. Once the primary server is back online, the Backup Email Server forwards the email to the primary email server and recipients can then retrieve their email.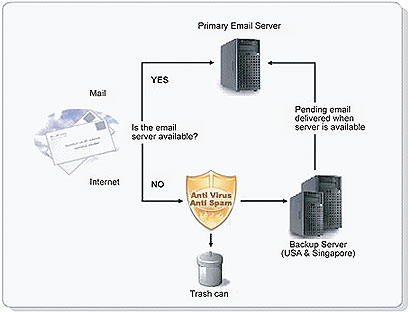 How To Implement It For Your Domain?

Once you subscribes to our Backup and Recovery Solution, our engineers will work with you and your IT staff to configure your DNS zone(s), if your domain is not delegated to Flexihostings.net nameserver. If your domain name is delegated to us, we will setup everything for you, test that it works and inform you. Once that is all done, you can now enjoy a worry-free email service.

For only $5 per month, you can protect yourself and your organization from the catastrophic damage preventable email issues could cause you.

Sign up now to capitalize on our secure, reliable and proven email backup solution.

FEMX Pricing Matrix?
PRICE IN AUSTRALIA DOLLAR (AUD)

Number of Domains to insured

1 Location
USA backup server

2 Locations
USA & SINGAPORE
backup servers

| | | |
| --- | --- | --- |
| 1 | $60 /year | $90 /year |
| 2 | $114 / year | $171 / year |
| 3 | $162 / year | $243 / year |

This service is protected by our no question asked 30 days Money Back Guarantee.